Winning a stage in the 2020 Trading Cup is always tricky. You are competing against many of the best traders in the world.
Stage two did not disappoint, with the winner, Zhen Wang, generating a return that may never get beaten.
First of all, Congratulations to Zhen Wang on an inspirational win, that kept our entire team more interested than ever in your results.
We've captured Mr Wang's trading statistics in the table below. Plus, we added the return of second place (also an incredible performance), to highlight how fantastic the winning return was.
At this stage, while you are looking at the equity chart above, it is important to note this is a real money trading contest and not a demo trading contest.
The reason for mentioning this is it is hard to believe anyone can generate such incredible returns in such a short space of time.
Below is the final leaderboard.
How did Zhen Wang achieve such impressive returns?
It is hard to put into words a strategy so simple, yet so stunningly effective at generating returns.
The reason we use the words 'simple' is due to the returns being generated by a handful of positions, all trading in the direction of the dominant trend.
There was no 'active trading' so to speak.
Last month's winner made 1037 trades and amassed an incredible return.
Zhen Wang simply took a long position in gold, then successively added to the winning position several more times as per the chart below.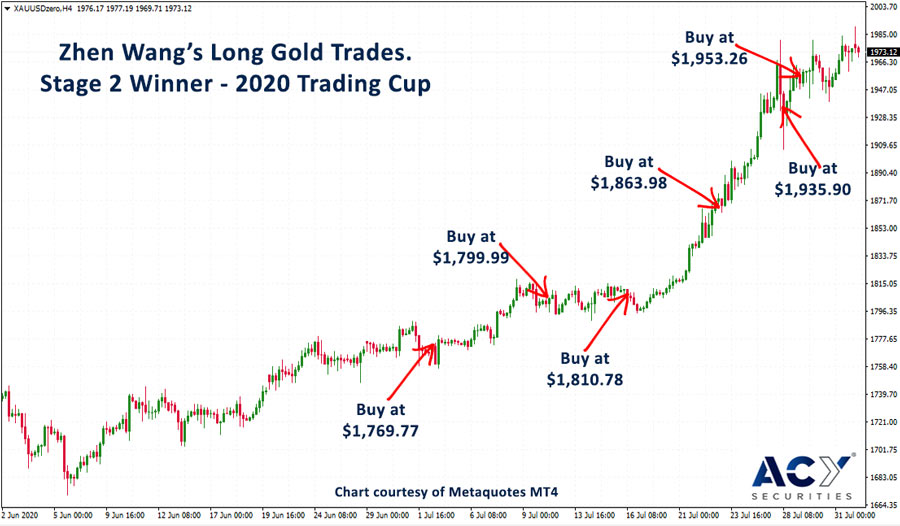 Pyramiding his way to the highest return we have ever seen
This technique of adding to winning positions is referred to by traders as 'pyramiding'.
Pyramiding is the technique of adding to your existing position and adding another set of risk or contracts to your initial trade.
The people who tend to use this technique are those who run trend following trading systems.
The challenge with this technique is to find a trending market before it happens.
While others are busy actively trading their account, trend followers are often sitting tight on an initial position, adding to their trades as it moves in their favour.
Some of the best traders in the world use Pyramiding techniques
By way of example, there are two famous people or groups of traders who have excelled at using pyramiding techniques.
1. The Turtle Traders
2. Nicolas Darvas
The Turtle Traders were famous back in the 1980s when Richard Dennis put an ad in the paper to find people he could teach his futures-based trading system to.
He then gave them each $US1 million and swore them to secrecy over the exact rules of his trading systems.
At the core of his technique was a simple rule to add to winning positions every half N.
As per their criteria, N equals what we'd refer to as the Average True Range (ATR).
So, the Turtle system would add another position when the initial trade moved in their favour every half ATR.
They added to their position up to 4 times, so long as the trend unfolded in their favour.
If the trend fell over, they closed their position, taking a small loss, relative to their total portfolio value.
One of the most prominent proponents of The Turtles is Curtis Faith, who has written several trading books well worth reading.
Nicolas Darvas and the Darvas Box technique
Nicolas Darvas had a different path of entering the stock market. His job was as a professional dancer, touring the world.
He came to fame writing a book titled 'How I Made $2,000,000 in the Stock Market.'
According to Wikipedia, Darvas made $US2,450,000 in 18 months during the 1957-58 bull market.
How did he do this?
He initially took seven years of trading poorly to work out the best way for him to trade based on his personality and trading timeframe.
He then took a handful of positions within his total portfolio, then several of those positions turned against him, while the others continued higher.
With the closed trades, he added those funds to the winning positions (pyramiding) and then rode them throughout the bull market.
Sounds simple, right?
Well, there are limitations to this strategy, which we'll discuss below.
What are the limitations of this strategy?
First of all, pyramiding is favoured by trend-based trading systems.
If your trading statistics have more of a 1:1 risk-reward ratio, then adding to a winning position doesn't make sense.
Another limitation is that trend-based trading systems, usually win just 30% of the time, losing on the other 70%.
This makes these trading systems psychologically tricky to continue, especially as losing streaks could be more than 20 trades.
Are you psychologically able to handle the potential of so many losing trades in a row?
Interviews with the top traders in July
Stay tuned over the next week as we get in touch with each of the winners and interview them. We'll dive in deeper into their trading strategies, their mindset and how they were able to excel during July's trading cup challenge.
We have some exciting interviews lined up, including 2nd place, who is part of a dynamic trading education company who featured prominently in last year's grand final.
Stage 3 is now open
Are you ready to join Stage 3 and compete against some of the best traders in the world?
Stage 3 runs for August and is now open for registration.
Are you ready to join the next Stage? Click here to register an account.