Gold fell overnight as US CPI figures came out, in line with expectations. As a result, XAU/USD pulled back over $30, providing plenty of trading opportunities for traders.
In particular, Hardy Feller managed to secure a handful of extremely positive trades, pushing his account in October to 404% of gains.
Let's take a look at the leaderboard to see how the competitors managed to react to the fall.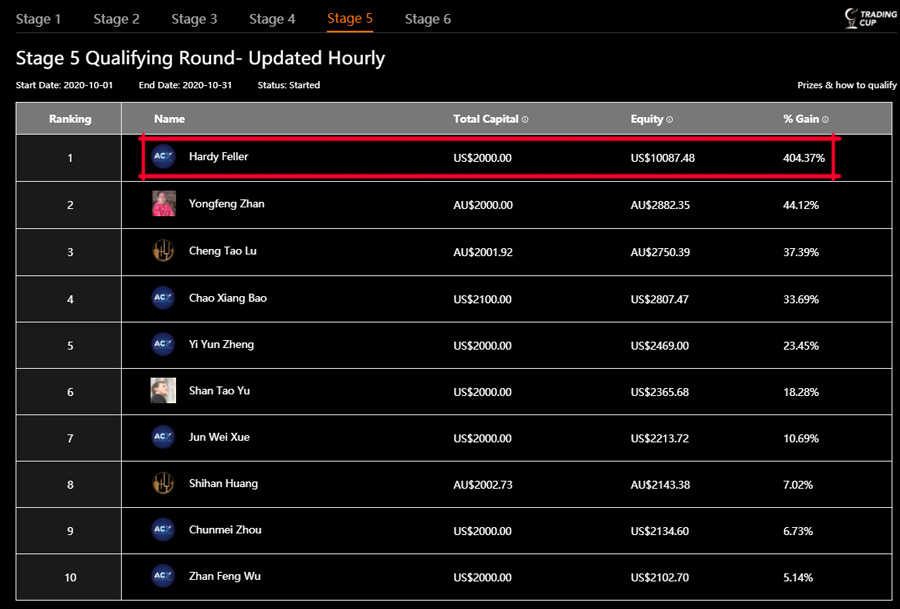 Earlier this week, we posted the leaderboard update, and following the big move on Gold, it is clear that a few traders were long the precious metal.
In particular, Cheng Tao Lu was unable to hang on to his 132%, instead dropping back to 37% in gains for the month. While still a fantastic result, he will be kicking himself that he could not capture the move down on Gold.
Taking a look at Gold on a 5-minute chart
From a technical perspective, Gold struggled around the $1,924.50 level overnight, with traders skeptical of the shiny metal pushing any higher.
Combining that with the CPI data out, the bears took control, forcing Gold $37 lower in less than 2 hours of trading.
Hardy Feller managed to lock in substantial gains during this time as he was heavily short Gold just before and then during the swift fall.
Hardy's equity curve and trading statistics & equity curve
Hardy is one of the most accurate traders we have seen. His ability to use his equity while discretionary trading is second to none.
As you can see from his equity curve below, he has only had one loss in 36 trades.
And then, when we take a look at his trading statistics, they are even more impressive.
One of the characteristics of this style of trading and only having one losing trade is that his largest loss is also his average loss.
As a result, his average loss is 6.3 times larger than his average win. This wouldn't be a great figure if that trend was to continue.
It appears Hardy has a firm conviction of the trend of a market and is willing to let positions run against him for some time before cutting that loss short.
And based on his recent wins by shorting Gold, he takes a position in one direction, is happy to let it trade against him, and then when it starts moving in his favour, he is happy to aggressively add to his winning position.
This method of adding to winning positions is called pyramiding, which we wrote about here and we noted that our Stage 2 champion used to record-breaking effect.
Momentum trading his way to the top
The strategy Hardy employs is to:
1. Identify the direction he believes a market will move.
2. Take a relatively small 'tester' position to get in the market.
3. Be patient in the direction and use a wide initial stop.
4. Potentially scale into the losing position (averaging down – which we do not recommend).
5. Then once the positions gain momentum in his chosen direction, to aggressively add to the winning position.
This is a little different from Zhen Wang, who is less aggressive in adding to his winning positions, instead pyramiding in at regular intervals as his margin allows.
Hardy is almost a sniper trader once he has loaded up on his full position size, locking in his winning trades with stunning accuracy.
Zhen Wang, on the other hand, is willing to see his open profits erode as he waits for the ultimate trend to unfold.
Will Hardy's strategy be enough to claim victory in Stage 5? Time will tell.
What the markets have to say about Gold's overnight move
Moving around the markets, we note a few analysts pointing to inflation concerns and deflation concerns.
The uncertainty continues.
Over at GoldSilver, they are suggesting that deflationary trends are growing more powerful.
While Peter Schiff continues to see strong inflows into the top Gold ETFs, with more than 1,000 tons this year.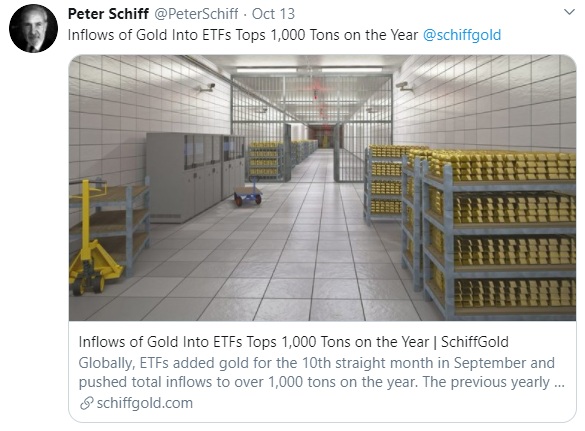 And when we check in with Bloomberg, they talk more specifically about the inflation risks ahead. Traditionally, Gold is used as a hedge against inflation, such that when inflation rises, Gold rallies.
In their article, Bloomberg states that unprecedented stimulus could cushion the global economy from the pandemic.
If Central Banks around the world, led by the US Fed, continue to print an excessive amount of money, markets could continue to rise, pushing Gold lower.
But for how much longer can the unrelenting printing presses continue?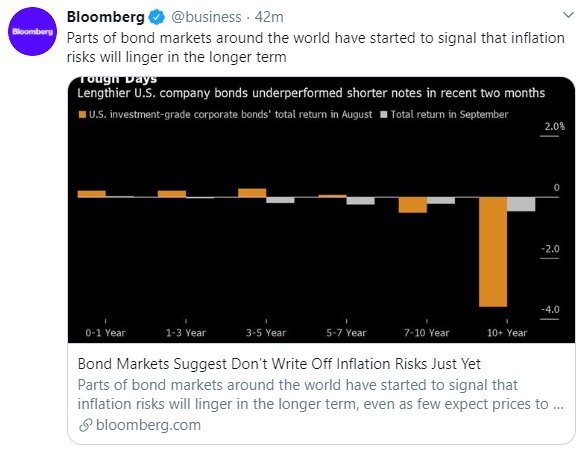 If we move across to Europe, we can see their printing presses continue burning the midnight oil.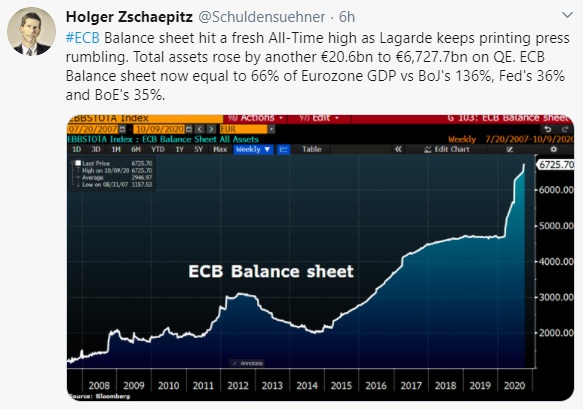 Every trader must keep a close eye on the stimulus measures implemented worldwide, as this could be the pin that makes the bubble pop at some stage.
Will we see a massive market correction? Will inflation spiral out of control? What will happen in the US Election on November 6?
So many key news events to keep an eye on.
Are you ready to join the next Stage? Click here to register an account.
​​
​​​